Questions Writers Ask of Earlier Entries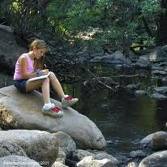 Why is this important to me?
What is the important thing about this?
Why am I remembering this?How does it connect to who I am or to important issues in my life?
What other entries does this connect with?
What does this show about me?About life?What does this make me realize?
Why did I write this?
What do I want readers to know about this?
What surprises me about this?
Finding And Crafting A Thesis Statement